Study In Latvia
Latvia is a country with varied landscapes, sprawling cities and age-old cultural traditions.
With over 44% of its territory covered by forests, a vast network of free flowing river and thousands of lakes, Latvia is one of Europe's best preserved havens for a wide variety of wildlife.
Latvia, the pearl of the Baltic States, is one of the European Union member states and is situated in the North of Europe- on the shores of the Baltic Sea. Since ancient times Latvia has been at the cross- roads between east and west, north and south. Therefore, Latvia is a multi-cultured state, where the traditions of all these countries have merged, creating a unique environment, the like of which is not to be found anywhere in the world.
About Latvia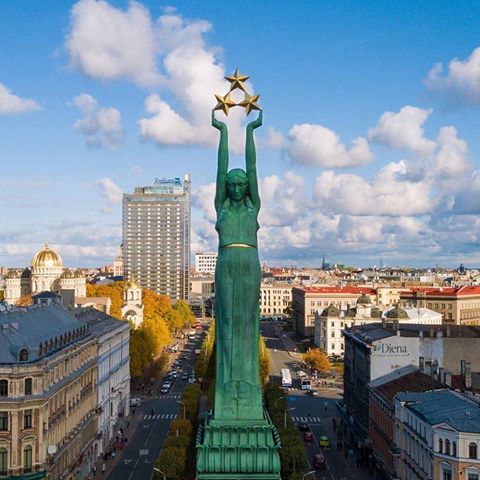 Capital : Riga
Official language : Latvian
Currency : Lats (Ls) (LVL)
Climate : Warm temperate humid climate
Education System in Latvia :
Study in Latvia and enjoy the great mixture of a beautiful landscape with lakes, rivers and rolling hills, and a rich intellectual and cultural atmosphere.
Latvia offers students, the best in world class education, both in terms of streams and diversity of study programs. With one of the fastest growing economies in the European Union, the Latvian business sectors are buoyant, offering great opportunities to international students. And mind you, all these come at a fraction of the cost that one would usually associate with overseas studies.
Universities and other higher education institutions run both academic and professional programs Bachelor's (bakalaurs) and master's (magistrs) in both academic and professional higher education programs.
Why Study in Latvia :
Bachelor's 3/4 yrs., Master's 1/2 yrs. & PHD 4 yrs.
At Present, No IELTS. # No Age bar # visa issuing time 15 days.
2/4 intakes, Education in 100% English.
Schengen visa - 28 Countries European Union Pass.
Multi-ethnic country with rich cultural and education traditions
World class higher education system
Majority programs taught in English
Safe and welcoming country
Affordable tuition fees and living cost
Qualifications accepted across EU
Curriculum with global perspective
Attractive stay back and work rights
One of the strongest economies in EU
Approx Annual Fees : 2000 to 3500 Euro depends on Institute.
Entry Requirement
Eligibility
Undergraduate : 12 / 10 + 2
Graduate : 16 years of education required (10+2+3)
Intake
February June and September
English Requirement
NO IELTS
No AGE BAR
NO GAP BAR
Documents for Application
Passport Copy
10th /12th / Diploma / Bachelor / Post graduate / Master Degree Mark sheets
3 Recommendation letter( IF Require By University)
Statement of Purpose
Resume
Cost of Living in Latvia
Average monthly living expenses in Latvia are estimated to between 250 and 500 Euro, Depending upon the type of accommodation. This amount should be enough to cover food, accommodation, utilities, transportations,and other expenses.